Magic AA
---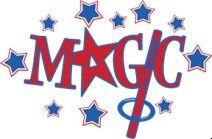 AA Ringette incorporates elite training and competition, a supportive team environment and the encouragement of a healthy and active lifestyle. The league is managed by Ringette Manitoba through the Manitoba High Performance Ringette League and is represented within 3 age groups: U14, U16, and U19.
Currently in Manitoba we have four identified catchment areas that host one or more AA teams. Bonivital Angels (which include Bonivital and Transcona Ringette Associations), Wild (SWRA), Eastman Flames (Eastman Ringette Association), and Magic (St. James, North Winnipeg, River East, Macdonald and Interlake).
More information about the AA program can be found on the Ringette Manitoba or Magic Ringette website.
Congratulations to the SJRA players selected to play with the U14AA Magic Ringette team for the 2023/24 season
Callaway Sutherland
Laine Cadger
Sophia Hamerla